Easter Layout
If you are just beginning this blog hop, please start at
MyPinkStamper.com
If you are coming from
Edna's blog
then you are in the right place.

I made this Easter layout with Spring Colors and My Pink Stamper's More Faithful Sayings Stamps. I love how it turned out.
Grass
was cut from
Gypsy Wanderings Cricut Cartridge
. Shift and it is button #42. Cut at 1.5". To create the solid grass piece across the bottom of the layout. I welded 6 grass sections together, on my gypsy, so they overlapped a little.
Basket
from
Doodlecharms Cricut Cartridge
and cut at 2.50"
Eggs
from
Doodlecharms Cricut Cartridge
. Large cut at 4" and Small cut at 2"
I used Glossy accents on the Eggs and Baskets. They are on pop dots so, when I applied the glossy accents the eggs curled up and made them more round like an egg.
Cute bunny
!
From
Create A Critter Ciruct Cartridge
and cut at 2.50"
Easter
was created on my Gypsy using the
Alphalicious Cartridge Cricut Cartridge
at 1.40". I welded the shadow letters together, angling them how I wanted to. Then I laid the normal letters over the top and lined them up just right over the shadow. Then welded the top layer together also. This made gluing them down much easier because the top layer was all one piece and the shadow was all one piece. Then I used Glossy Accents on the word to make it shinny.
More Faithful Saying's Stamp Set
. I lined up each side on a long acrylic block to stamp each side all at once. Then I layered it with brown paper and accented with pen stitches. Now they are ready for pictures.
Supplies Used
Pattern Paper - The Breathe Paper Collection from Prima (bought at Big Lots)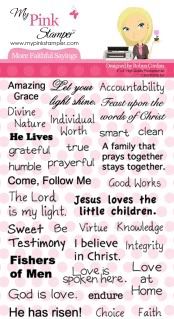 Alphalicious Cricut Cartridge
Create A Critter Cricut Cartridge
Doodlecharms Cricut Cartridge
Glossy Accents
Stazon Ink - Timber Brown
Sakura Gelly Roll White Pen
Pop Dots
Hope you enjoyed my layout. I love all your comments and read everyone. Please come back again for more Simple Creations. I love sharing projects with you.
Next hop to:
Tracy—Craft Junkie Too