Time to Pick a Winner!
I am giving away a

My Pink Stamper Stamp Set- Music Speaks

. For a chance to win you had to leave a comment on my Pinkalicious Blog Hop on Friday, April 8th.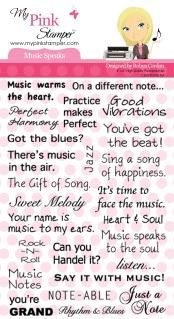 The winner is..........drum roll.....
Anne you have 1 week to email me with your mailing address, so I can send it to you.
Thank you everyone for your comments. I loved reading what your favorite projects to make are. I also get really excited when I know people are following my Simple Creations. Welcome to all my new followers. I will be working on my new project for My Pink Designers Post on Tuesday morning. So visit back soon to see more Simple Creations.
Also, Robyn - My Pink Stamper just announced today that she has new stamp sets coming out soon. So keep watching for new projects with her new stamps.